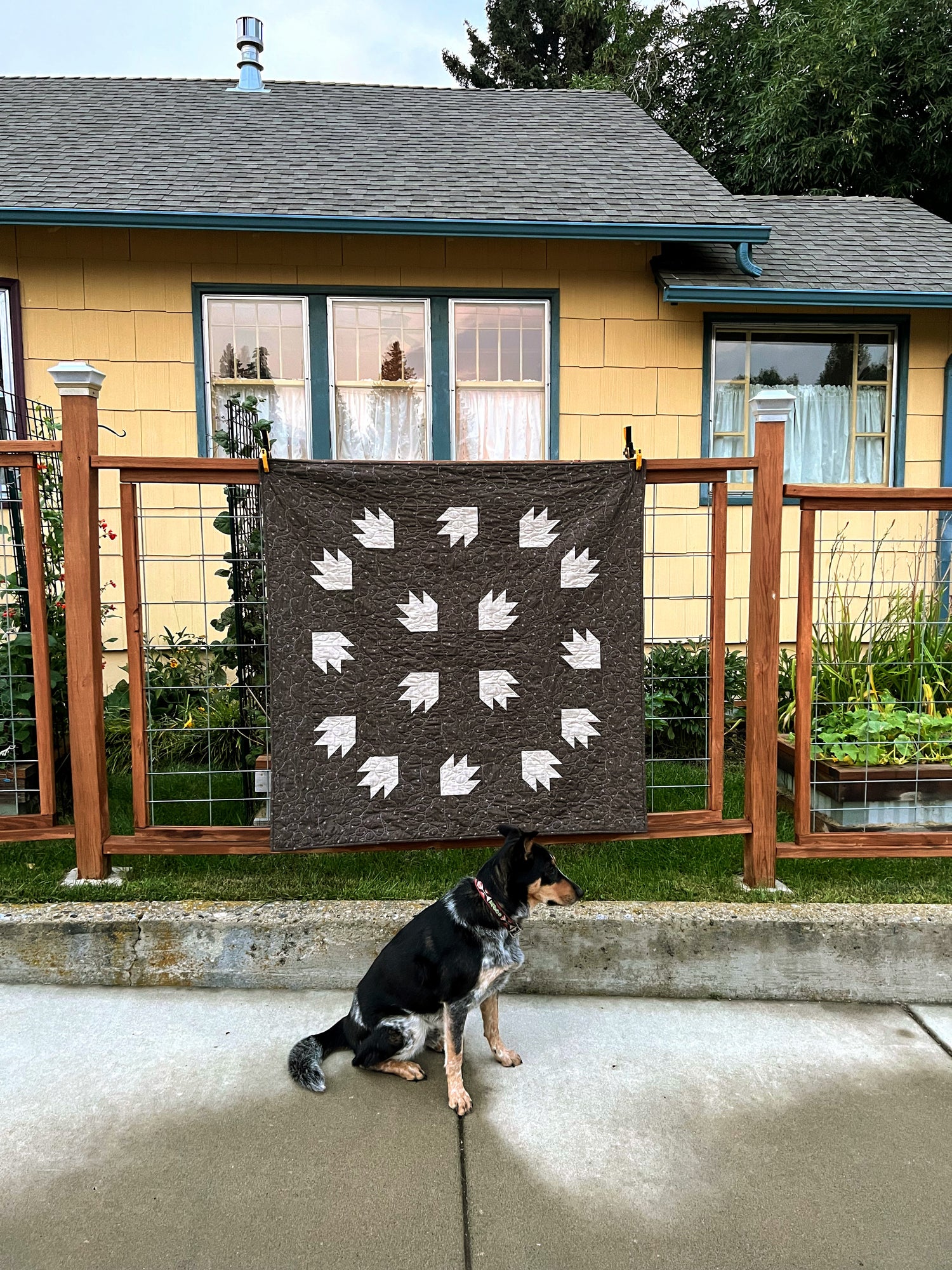 Ivan The Quilt Guard Dog
Every few months I do a quilt show I call "quilt on the fence" right in front of my 100 year old home in Red Lodge Montana. While I'd like to believe that the star of this show is my quilt, Ivan, our beloved rescue dog, turns out to be the main attraction!
Paint Your Pony
New pattern, hooray! A very modern black, white and red design. When I sent my daughter a picture of this dot layout, she said "oh I want one".
About Me
If you're reading my about page, there is a high probability that you're a quilter (or wanna be one).  Everyone starts this journey in their own time, at their own pace and with tools that work to make the process happen.
I still use the Featherweight sewing machine that my Dad bought my Mother when I was born, the machine is one month older than I am.  I made my own prom dress on that machine, along with countless attempts and failures at making my own clothes for school and work.  I don't think there was a pattern out there that fit the way I wanted, so I gave up on the whole clothing thing and turned to quilting.
Quilts always fit!
I have a great husband, kids, grandkids and a dog.  My family has always supported whatever crazy adventure I'm on in the moment.  I've had a professional RN career, a professional real estate broker career and now I've been on this quilting thing I can't seem to stop.
I started quilting for others on my longarm machine, then I opened a brick and mortar quilt shop, then "retired" to an online quilt shop (not retirement) and now I'm writing quilt patterns and restarting an online quilt shop (try the whatnot app).
My hope is to focus on a general Montana Rocky Mountain Modern look.  Not sure what that means?  I'm not either, but follow along while I work this whole thing out.
Thanks so much for being here to the end.
Calamity